Ok this seems to be the dispatch that I'm most like to get out weekly so welcome to the weekly post there at deadwood... The Wanted Column and my spotlight on the Nebula Nominees and some new books...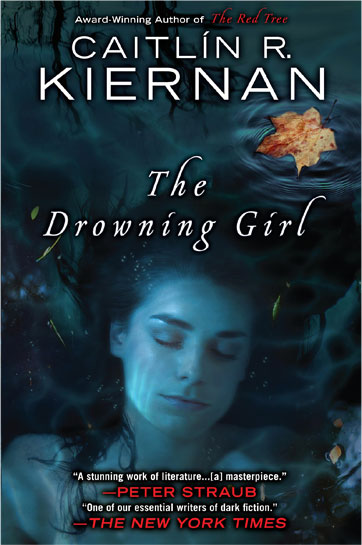 Due to my absolute enjoyment of the Alabaster graphic novel (reviewed here) and the fun I've had starting to read The Red Tree and the preview chapters of Blood Oranges I'm very interested in getting a copy of The Drowning Girl. Caitlín Kiernan is the kind of crossover writer somewhere between fantasy and horror that is really up my alley these days; maybe I played too much Call of Cthulhu in the day and watched too much Twilight Zone as a child.
Here is what Brit Mandello of Tor.com has to say about it and here is a short bit of cover copy....
India Morgan Phelps-Imp to her friends-is schizophrenic. Struggling with her perceptions of reality, Imp must uncover the truth about her encounters with creatures out of myth-or from something far, far stranger...

Maybe its just me.... I have some existential issues but I hope to get a copy soon...
Tina Connolly is not a name I'm familiar with but I do recall the striking cover of this novel and the idea of a "Woman in the Iron Mask" novel is attractive to me so I'll likely try to get a reading copy of this at some point soon. Again now with the cover copy;
Jane Eliot wears an iron mask.
It's the only way to contain the fey curse that scars her cheek. The Great War is five years gone, but its scattered victims remain -- the ironskin.

When a carefully worded listing appears for a governess to assist with a "delicate situation" -- a child born during the Great War -- Jane is certain the child is fey-cursed, and that she can help.

Teaching the unruly Dorie suppress her curse is hard enough; she certainly didn't expect to fall for the girl's father, the enigmatic artist Edward Rochart. But her blossoming crush is stifled by her own scars, and by his parade of women. Ugly women, who enter his closed studio...and come out as beautiful as the fey.

Jane knows Rochart cannot love her, just as she knows that she must wear iron for the rest of her life. But what if neither of these things is true? Step by step Jane unlocks the secrets of her new life -- and discovers just how far she will go to become whole again.
Ever since the short story "Evil Robot Monkey" and learning that Mary worked on the puppet-centric kids show Lazy Town that I and my girlfriend watched in Belgin while house-sitting in Holland I've been a fan. Mary also is one of the four writers that works on the podcast Writing Excuses which I'm pretty much addicted to since I hope to write something worth reading someday. Glamour in Glass is her second novel and a sequel to her first novel Shades of milk and Honey which she would pitch thusly : "this is the novel Jane Austen would have written if there was magic in the world"
Theses are not my normal grin gritty noir likes, oh she can write that but its nice to read something out of my element sometimes and her research into the real early 1800 brings this alternate history a lot of realism.
N.K. Jemisin is an author I have known I need to read for a couple of years having heard other authors sing the praises of her first series that started with the novel "The Hundred Thousand Kingdoms". I've had a copy of that novel for a while now and have yet to make the time to read it and here comes another series by her and look the first one is nominated for the Nebula. Me I'm guessing its time I read her work rather then reading her great posts and comments on Facebook. ... Here is the cover copy of it for you :
The city burned beneath the Dreaming Moon.

In the ancient city-state of Gujaareh, peace is the only law. Upon its rooftops and amongst the shadows of its cobbled streets wait the Gatherers – the keepers of this peace. Priests of the dream-goddess, their duty is to harvest the magic of the sleeping mind and use it to heal, soothe . . . and kill those judged corrupt.

But when a conspiracy blooms within Gujaareh's great temple, Ehiru – the most famous of the city's Gatherers – must question everything he knows. Someone, or something, is murdering dreamers in the goddess' name, stalking its prey both in Gujaareh's alleys and the realm of dreams. Ehiru must now protect the woman he was sent to kill – or watch the city be devoured by war and forbidden magic.
Though not as outrageously and fittingly pulp as the original cover here is the one I kinda hope gets the nod from the judges this year. Saladin Ahmed's Throne of the Crescent Moon is probably my favorite read from last years stack that I got through. I really did love his mix of older seasoned retired heroes and a new generation of adventurers in this book, maybe it was growing up with my grandparents or maybe it was Saladin's obvious love of the heroic traditions he was drawing from but I have nothing to say but if you love fantasy heroic adventures and are wanting a new voice here is the one I'd suggest. It's not as sprawling and doorstopish as some but its more heart poured into it then many multi volume sagas.
Here is my review of the book from several months back, I hope I did it justice.
So that's all of that for the moment.... I'm going to hit the collections and YA book up for the award next week.... I will be covering some of this next weeks releases later in the week but I have to do this today...
The second InCryptid novel from Seanan McGuire comes out this next Tuesday and may be on store shelves already. Seanan writes so many different genres and does them all well and anyone interested in good adventure fiction pretty much can't go wrong with her books. Here is the cover copy for the first novel Discount Armageddon and this one for you to check out:
Discount Armageddon (March 6th 2012, DAW) introduces us to Verity Price, journeyman cryptozoologist, ballroom dancer, and former reality television star. She's on assignment in Manhattan, researching the local cryptid community while she pursues her dance career. It's a cushy job...at least until local cryptids start disappearing, and all signs start pointing to a man from the Covenant of St. George. But is Dominic De Luca really to blame? And if she casts her suspicions in the wrong place, is she going to survive the experience?
Midnight Blue-Light Special (March 5th 2013, DAW) takes us back to Manhattan, where Verity Price is finishing her journeyman assignment, and starting to wonder what she's going to do with the rest of her life. It's a complicated question, made harder by all the things she's trying to juggle. Does she want to be a dancer, a cryptozoologist, or something else altogether? Where does Dominic De Luca fit into her future? And what's all this about a Covenant purge? It's going to take some pretty fancy footwork to survive this dance number, much less get the winning score...
And so that was a lot but there is so much good stuff coming out this month that I hope to post more of these then just the Saturday dispatches .... Take care all...
G